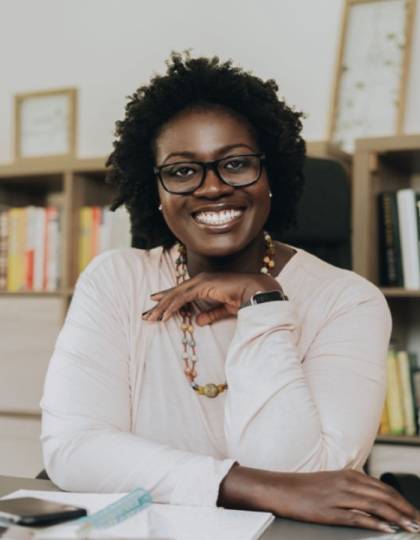 Boakyewaa Glover is the Director of the Administration Division, which is equivalent in rank to Commissioner of Police. She assumed office on 7 March 2023.
She is also the Secretary heading the Secretariat of the Office and the Secretary to the Governing Board.

Ms. Glover is a Ghanaian Writer, Organizational Psychologist, Human Resources Professional and Media/Communications Strategist. 


She has worked in diverse and multi-faceted roles in the corporate world in Ghana, United Kingdom and the United States for more than 20 years. Some of these roles include, TV Presenter, Newscaster, TV Script Writer, Sales Assistant, Consultant, Human Resources Vice President, Media and PR Strategist, Project Manager, Blogger and Published Author. Her diverse career profile is a template that she leverages daily and enables her to connect with stakeholders throughout each professional journey. 


She was the Deputy Head for Corporate Affairs and External Relations at the Minerals Income Investment Fund (MIIF), with direct responsibility for Corporate Social Responsibility (CSR), Environmental, Social and Governance (ESG) and communications and PR for the Fund's Special Projects. She is also the Founder and Group Director for Minds on Fire Group, a Human Capital Consulting company, that also provides media, editorial and publishing services.


Ms. Glover has achieved critical accomplishments in her career. A few examples are outlined below. She has designed and established high-impact HR people programmes, such as a people-centric Redundancy and Separations Model that has become the playbook for separations; and enhanced talent management programmes, such as succession planning, leadership development, inclusion and diversity. She has also led multiple organizational restructuring and redesign programmes, leading to significant cost reduction for clients and companies.

She has three (3) published books – Circles (2009 -- romantic drama), Tendai (2013 -- science fiction), and The Justice (2013 -- political thriller), as well as a plethora of articles, short stories, poems and other works. Her fourth book, Commitment, will be released in 2023.


Ms. Glover has also received professional accolades, including 2014 finalist for Africa's Most Influential Women (organized by CEO Communications, South Africa), the 2018 winner for Ghana's 40 Under 40 Awards (Authorship & Creative Writing category) and a 2020 nominee for the prestigious Ghana Millennium Excellence Awards under the category of English/Literature/Poetry.


She attended Wesley Girls' High School for her high school education, University of Ghana for her Bachelor's degree in Psychology and Sociology, and New York University for her Master's degree in Organizational Psychology.


As an Organizational Psychologist, her vision for her life and career is centered on people – supporting, enabling and influencing people to identify and achieve their full potential.