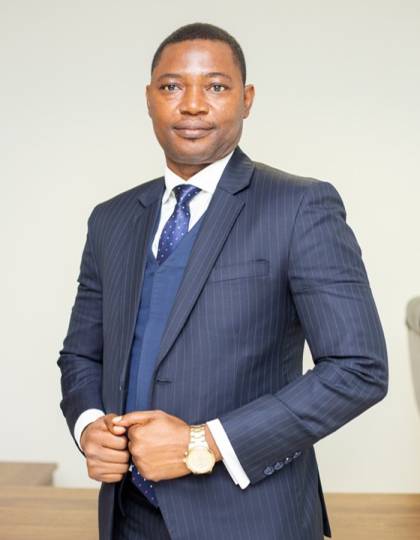 Emmanuel Basintale Amadu is the Director of the Investigations Division, which is equivalent in rank to Commissioner of Police. He assumed office on 2 May 2022.
  
He is a Lawyer and was called to the Ghana Bar in 2015 after his professional law studies at the Ghana School of Law. He served as a police officer with the Ghana Police Service for more 27 years. Prior to his present appointment, he was a senior police officer stationed in the Western Region as the Officer in charge of Legal & Prosecutions. He was the legal advisor to the Police Regional Command and responsible for the prosecution of all criminal cases in the region.
Mr. Amadu has more than 20 years experience as a trained police detective and investigator, crime officer and a certified police trainer. He has investigated and prosecuted sensitive, complex and sophisticated crimes including murder, robbery, narcotics, cyber fraud, fraud, sexual offences, and corruption and corruption related offences.
He was the Police District Commander at Legon, East Legon; Assin Fosu Divisional Crime; Drug Law Enforcement Unit among others. He taught Criminal Law, Criminal Procedure and Law of Evidence at the Ghana Police Academy and Training Schools, Tesano, Accra and several training courses for  police personnel.
He has participated in several policing related courses in Ghana and elsewhere as a participant and a facilitator. These include Generic Pre-Deployment Training at Baden-Wuerttemberg State Police College, Bobligen, Germany in 2019 as a facilitator in Criminal Law and Sexual Exploitation and Abuse; Command Course at the Police Command and Staff College, 2018; Police Middle Level Management Course at Kofi Annan International Peace Keeping Centre, Accra, 2019; Sexual and Gender Based Violence Course at the Kofi Annan International Peace Keeping Centre, Accra, 2018; Security Sector Reform for Developing and Post War Recovery Countries at the Kofi Annan International Peace Centre Accra, 2018;  Intelligence and Investigation Course for UN Personnel, Sudan, 2006; Mine Detection, Awareness and Tactical Operations for UN Personnel, Sudan, 2007; Management and Use of Weapons and other Special Equipments Course, Accra, 2005; Police Reform, Restructuring & Rebuilding Course for UN Personnel, East Timor, 2001; Disarmament, Demobilization and Reintegration Course, East Timor, 2001; Investigation of Narcotics and other Psychotropic Substances, Accra, 1999; and Detective Training Course, Accra, 1999.
He holds a Master of Arts (M.A.) degree in Human Rights from the University of Education, Winneba; Bachelor of Laws (LL.B.) from the University of Ghana School of Law; and a Bachelor of Arts (B.A.) degree in Sociology from the Kwame Nkrumah University of Science and Technology (KNUST).