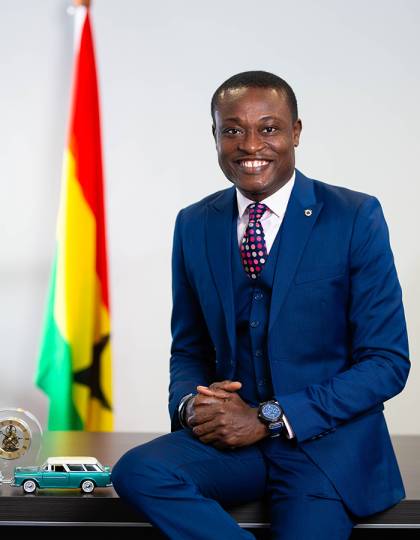 Kissi Agyebeng was sworn into office as the second Special Prosecutor of Ghana on 5 August 2021 for a statutory term of seven (7) years.  
He was the founding Managing Partner of Cromwell Gray LLP, a law firm operating from Ghana, and he taught Criminal Law and International Humanitarian Law at the University of Ghana School of Law for more than fifteen (15) years.
He served as the Chairman of Ghana's Electronic Communications Tribunal – an ad hoc appellate tribunal that hears appeals from decisions and sanctions of the National Communications Authority in respect of the regulation of electronic communications, broadcasting and the use of the electro-magnetic spectrum.
He also served as the Vice-Chairman of the Appeals Committee of the Ghana Football Association. He is a Notary Public of the Republic of Ghana and he was called to the Ghana Bar in 2003 after professional law studies at the Ghana School of Law where he won the E.N. Sowah Award for best student in Family Law.
He holds a Master of Laws (LL.M.) degree from Cornell Law School in Business Corporations, Securities Regulation, International Commercial Arbitration and International Business Transactions. He holds another Master of Laws (LL.M.) degree from the Schulich School of Law at Dalhousie University in Marine & Environmental Law. He holds a Bachelor of Laws (LL.B.) degree from the University of Ghana School of Law where he won the Bensti-Enchill award for best graduating law student.
He is a fellow of the Institute of African Studies at Cornell University and the Canadian International Development Agency Fellowship for the Marine & Environmental Law Programme at Dalhousie University.
He has published several journal articles in Criminal Law, Law of the Sea, and Company Law. He co-edited A Commitment to Law, Development & Public Policy – A Festschrift in Honour of Nana Dr. SKB Asante and he co-authored Conflict of Laws in Ghana.